DRM/DRM+ Digital Radio Mondiale
From Opendigitalradio
(Difference between revisions)
---
Revision as of 15:28, 11 February 2011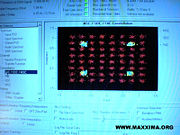 Spark free (but not free software) DRM30/DRM+ (also FM and AM) transmitter that supports direct USRP RF output.
Dream free software DRM30 receiver and transmitter (see here to use Dream with USRP).
Sodira free DRM30/DRM+ receiver (can be used with USRP using GRC - examples here - to grab the I/Q channels and output it to a VAC, then to RateMonkey, and then to Sodira.
Diorama, Matlab implementation of a DRM receiver