DRM/DRM+ Digital Radio Mondiale
From Opendigitalradio
(Difference between revisions)
---
Revision as of 16:48, 21 March 2011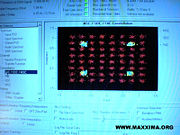 There are some good options in order to receive and transmit DRM30 and DRM+ currently available.

Spark free (but not free software) DRM30/DRM+ (also FM/RDS and AM/AMSS) transmitter that supports direct USRP RF output (possible hardware options include the USRP and Diragen).
Dream free software DRM30 receiver and transmitter (see here to use Dream with USRP). Look for [www.pappradio.de Pappradio] for an affordable receiver hardware to use with Dream.
Sodira free DRM30/DRM+ receiver. To receive DRM+ one option is to use a VHF to HF downconverver (FMC 108-20 is a good option) together with a receiver like Pappradio (remember to turn off all band-pass filters). Other option for DRM+ reception is the USRP, using GRC - examples here - to grab the I/Q channels and output it to a VAC, then to RateMonkey, and then to Sodira.
Diorama, Matlab implementation of a DRM receiver