DRM/DRM+ Digital Radio Mondiale
From Opendigitalradio
(Difference between revisions)
---
Revision as of 23:14, 12 December 2012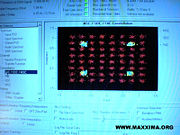 There are some good options in order to receive and transmit DRM30 and DRM+ currently available.
GNURadio DRM blocks All the power of GNURadio and DRM together! This recent Felix Wunsch work implements a DRM transmitter in this stage, and in a next stage will also implement a DRM receiver. Comes with gnuradio-companion examples supporting both file and USRP outputs.
Spark free (but not free software) DRM30/DRM+ (also FM/RDS and AM/AMSS) transmitter that supports direct RF output (possible hardware options include the USRP and Diragen). Also supports the use of the royalties-free codec CELT.
Sodira free (but not free software) DRM30/DRM+ receiver. Native support for the RTL2832 is comming soon in order to properly allow DRM+ reception.
Diorama, Matlab implementation of a DRM receiver.
Wavesink Michael Feilen's DRM+, DAB and FM software receiver which uses the a RTL2832 dongle to receive the signal.
Receivers modification to get the DRM signal on a soundcard
See also DRM_trial_II_in_Sottens reporting a test transmission made with Spark, USRP and an amateur radio amplifier on the decommissioned MW transmitter mast of Sottens