FM RDS Stereo transmitter using gnuradio
From Opendigitalradio
Information on the setup a software defined FM RDS Stereo transmitter using Gnuradio.
It has been made from the integration of a stereo transmitter (opendigitalradio.org), gr-rds project on CGRAN and design from CRC.
Hardware
PC
USRP1 Universal Software Radio Peripheral with WBX RF daugtherboard (50MHz-2.2GHz) (can work also with Basic TX with minor modifications)
Software
Ubuntu Linux 10.04
Gnuradio 3.3
Jack open Audio connection kit
Setup
Download and install all software mentioned in the previous section
Download and install gr-rds project (run also install-grc.sh script in src/grc to install components for gnuradio companion, optional)
Download the Jack FM RDS Stereo gnuradio python script
Create the .asoundrc file in your home directory, "jackplug" is mapping of jack source to ALSA, defined in .asoundrc file in home directory
Startup procedure
Power and connect USRP1, with wbx board installed in A side (can be changed with minor modification to the script)
Start jack audio server using Jack Control (you need to have install jack audio server and tools)
Start Jack FM RDS Stereo gnuradio python script
Window will appear with the different settings to control frequency and gains of FM composite signal components
By default (depending on .asoundrc file) all source will be connected to the default system audio input (laptop microphone in general)
Play the audio of the content you want to broadcast on jack, for example, if you take an internet radio stream:
mplayer -ao jack http://maxxima.mine.nu:8000

Connect the output of jack source to the input of gnuradio software transmitter using "connections" in JACK control
That's it
TO DO: fine tuning of gains for composite signal.
Source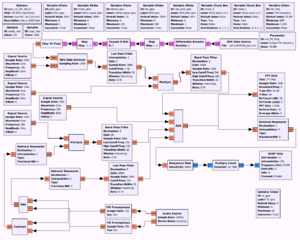 Python script can be modified directly.
Gnuradio companion source file can be found HERE