Live DAB+ test transmission in Geneva during the EBU Radio Week 2012 with 100W ERP
From Opendigitalradio
During the EBU Digital Radio Week, a live DAB+ transmission using 100 Watts ERP is taking place.
The idea is to demonstrate a working setup using mmbTools coupled to a VHF power amplifier, mask filter and antenna. This kind of setup can be used by local or community radios to build affordable DAB+ transmission. The full setup cost is around 20'000 €. The most expensive item is the 600W power amplifier. The antenna used has a gain of 5dB so the maximum radiated power of this kit is around 1.8 kWatts, that is enough to cover a city (depending on terrain topology and antenna location)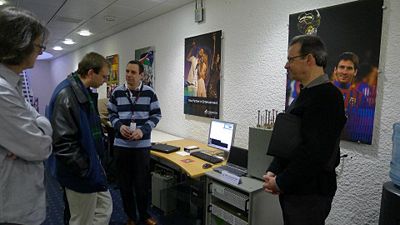 The coverage has to be evaluated but will probably be patchy as the radiated power is limited and antenna location is far from ideal (roof from EBU). However, the signal should be received in Grand-Saconnex area.
Content on the multiplex will vary. At the moment it is:
Banane (Student Radio) - 4002
Openbroadcast (User generated radio) - 4003
Maxxima (Dance) - 4004
Backstage Radio (User Generated radio) - 4005
Nashvillage (Country music) - 4006
Lemixx (Funk&Groove) - 4007
Uzic (Techno minimal) - 4008
Chat (cat purr) - 4112
The transmission is on channel 10A. Ensemble label is EBU/UER and EID 4FFF.
Some channel are with RadioDNS/RadioVIS service activated.