User:Coinchon
From Opendigitalradio
(Difference between revisions)
---
Latest revision as of 16:09, 24 June 2013
Mathias Coinchon,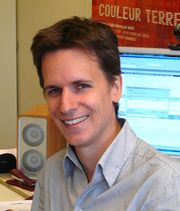 President of Opendigitalradio non-profit Association.
I am active in the radio and more specifically digital radio domain from the time of my studies.
Past and present experiences:
Ingénieur dip. EPFL sys. com.
BBC Research&Development
Wavecall
RSR/SRG-SSR

Contribution/Distribution
DAB project

European Broadcasting Union

Digital Radio,
Vice-chairman of WorldDMB technical comittee
Secretary of RadioDNS

Fréquence Banane

Président (1996-97)
first permanent low power FM licence
temporary FM solution since 2007.
It is important to note that opendigitalradio activities are independent from my professional activity.
Contact: mathias at opendigitalradio.org